VOCATIONAL TRAINING TO BECOME A CURATIVE EDUCATION SPECIALIST, INSIDER TIPS ON HOW TO APPLY, VACANCIES, FSJ & WORK PLACEMENT
Education & Career
Voluntary Social-Service Year
"Nothing good happens unless you do it."
(Erich Kästner) 
Questions regarding your future
You finished school and want to find out whether working with people is right for you?
You are looking for a meaningful occupation after you completed your au-pair stay and want to remain in Germany?
You enjoy working with people?
You like helping others and supporting them as they navigate through life?
You find it exciting to care for, foster, assist, and support people who are dependent on help in their daily lives?
If you answered some of these questions with YES, we invite you to join us and complete your voluntary social-service year with us.
What is a Voluntary Social-Service Year (Freiwiliges Soziales Jahr, FSJ)?
The FSJ is an opportunity for young adults to provide social service in a variety of institutions on a voluntary basis for one year.
You will gain insight into various aspects of social work, meet people from all walks of life and make an important contribution to improving our community.
You will soon notice how you evolve personally.
Day after day, you receive heartfelt and honest gratitude as well as feedback from the people you assist in their daily lives. You will have professional guidance during the entire year.
Your own ideas and your commitment are always welcome, and we will be glad to incorporate them into our daily routines.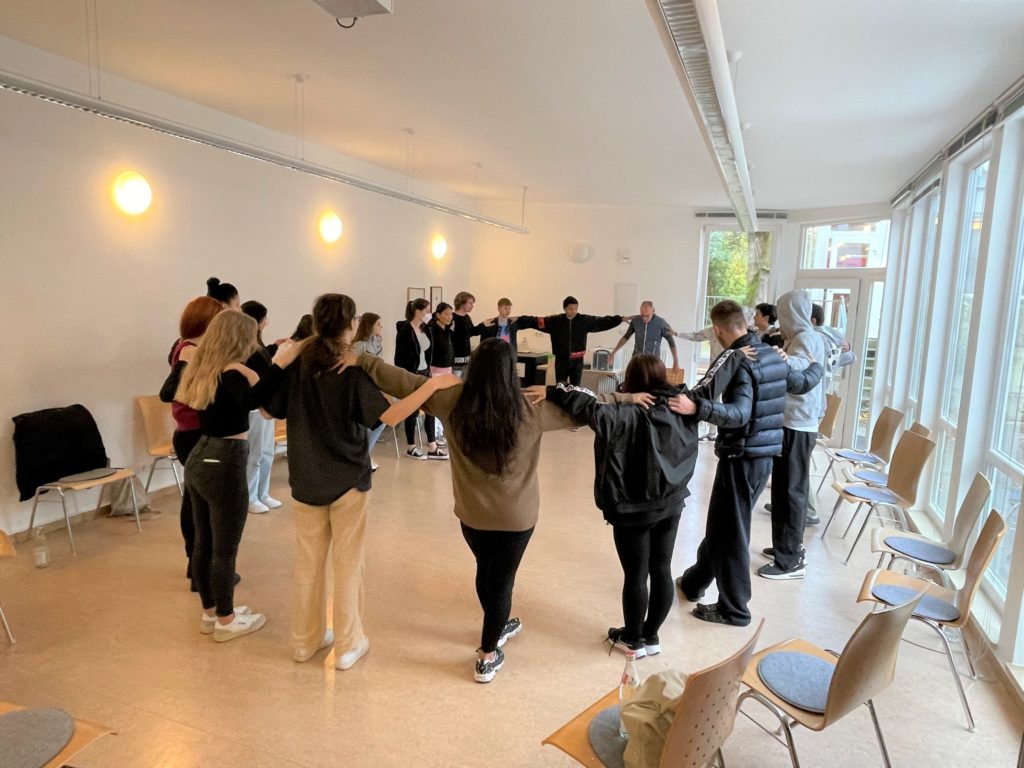 Must have a minimum of 9 years of schooling;
Between 16 and 27 years of age;
Must provide proof of complete immunisation against measles;
New visa may be required if in straight succession to au-pair residency;
Enjoy working with people;
Be open to new things.
What do we have to offer?
You shall receive a monthly allowance of €250 as well as subsidies for food (€200) and lodging (€50).
We will pay for transportation to the seminars.
What makes your Voluntary Social-Service Year with Stiftung ICP München special?
Great teams in various professions.
You gain insight into different work areas and ways of working:
curative-education specialists give you insights into our valuable pedagogical work,
you will learn from health and (paediatric) nurses about complete and holistic medical care,
our therapists from the areas of physiotherapy, occupational therapy, speech therapy, and psychotherapy show you how therapeutic tricks and interventions help us achieve holistic care,
teachers invite you to participate in our special-needs classes, and you will notice that for us, "school" does not just mean German, maths, and English.
We care for people of all ages, allowing you to choose which persons you would like to assist. While our youngest charges are in the integrative child development day-care, we help seniors well into old age and offer persons with disabilities a dignified and beautiful home in our special elder-care facility.
We do meaningful work every day.
We offer a limited number of flats for your employees.
With our own vocational school for curative-education care in-house, we offer the perfect opportunity for vocational training after completion of the FSJ.
If you meet the vocational training requirements you can take the next step in your life journey right here with us.
You think that swimming with dolphins is something special? Observing the persons in our care while they spend time in our in-house swimming pools, you will soon notice that this form of therapy is truly special.
Where can you volunteer during your FSJ with the Stiftung ICP München?
We have several places for you to work during your voluntary social-service year:
At the facilities of the Stiftung ICP München on Garmischer Strasse and the facilities of the Integrative Child Development, or in the inclusive Luise-Kiesselbach-Haus you can support children, youth, and young adults in their daily lives. The smallest of our children attend our day-care facility.
In addition to the inclusive primary school, where children with and without disabilities learn together, we provide children and youth with an elevated need for developmental assistance with the appropriate environment in our curative-education day centre to further develop their personality and skills.
At our Garmischer Strasse site we also run a school boarding house for 27 children and youths with disabilities, where you can spend your voluntary social-service year and gain exciting insights into the life of residential groups.
You like gardening? Our Urban Gardening Project is the perfect match for a year spent volunteering. You will help our young landscape gardeners with the work that needs to be done and assist young adults with disabilities in their vocational training.
Our Münchner Förderzentren (MFZ) (Support Centres) are located in the Munich neighbourhoods of Freimann and Giesing. These sites offer you the opportunity to support and help both adults with disabilities and seniors with and without disabilities in their development and actively contribute to their daily lives in several areas of application. Our charges receive assistance and support in the facility, in the workshop for persons with disabilities, or in the residences.
For you to be able to volunteer with us during your social-service year, you will need an FJS sponsor. Our cooperation sponsors are bpa Bayern and the Internationale Bund (IB). We will assist you in the process if needed.
Did we make you interested in a voluntary social-service year at one of our facilities?
Do you have questions on working with us or problems with your application, or with your visa for your stay in Germany?
Contact us and we will be happy to assist you.
Aditional information
Your contact persons
We look forward to hearing from you and seeing you on in our team!