RESIDENTIAL LIVING, SUPPORT FACILITY,
WORKSHOP FOR PERSONS WITH DISABILITIES
Residential Living & Working
RESIDENTIAL LIVING & WORKING
Living in the Giesing and Freimann MFZ
A place to feel comfortable and at home
For adults with disabilities, we offer space in boarding houses in our Support Centres in the Giesing and Freimann neighbourhoods of Munich. We believe that especially adults with disabilities must be able to experience a sense of being at home and a well-structured day in their new living environment, which is reflected in our motto, "Residential living equals being comfortable." We therefore strive to combine the daily life in the boarding house with the opportunities for privacy and intimacy, tranquillity and community.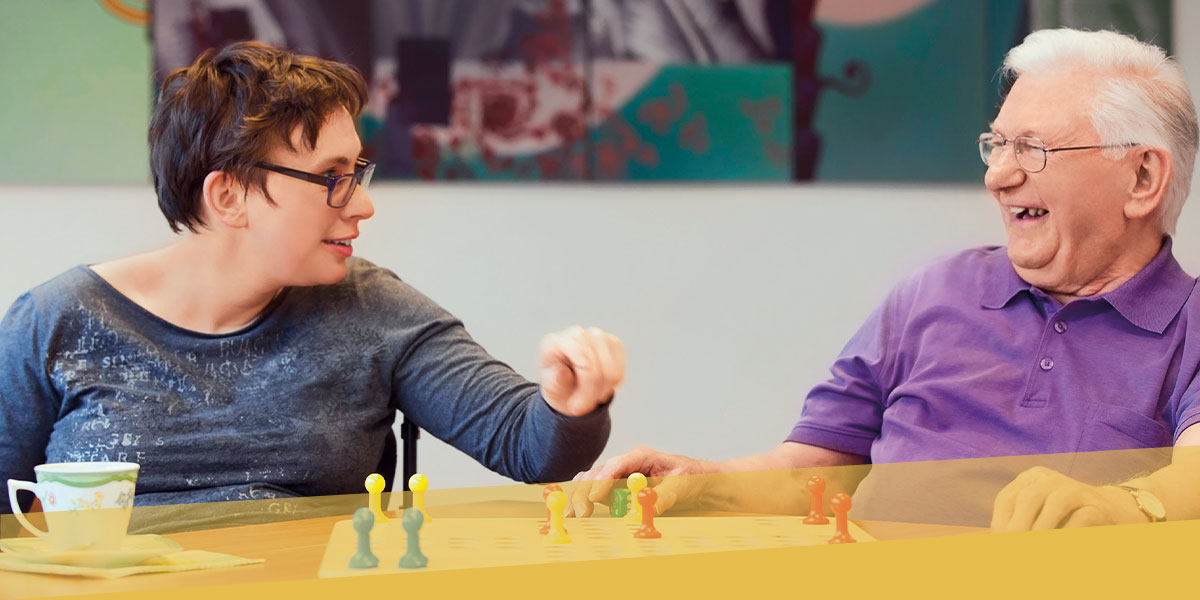 We want to support our clients in their shared living situation with others on how to evolve their own perspectives and paths in life and to live their lives as autonomously and independently as possible in all aspects of daily life within the residential group. Our staff organise leisure activities in the form of excursions and community events and help our clients to pursue their hobbies and interests alone or with assistance. Dedicated staff in the boarding house are available for our clients at any time, providing clients with the necessary safety and support for a more autonomous way of living.
Information material for download
An example of a residential group
FOR QUESTIONS REGARDING SPACES IN THE BOARDING HOUSE
Your contacts
Residential living with external care—MFZ Giesing
For persons in need of assistance wanting to live independently, we created the option to live in a residential setting within the MFZ Giesing offering external care. 12 wheelchair-accessible apartments are available for independent living with external care, an expansion is currently in the planning stages. We are convinced that with our external care, many persons with disabilities are able to live in this more-autonomous setting although they have a great need of assistance. We ensure that all clients receive the help, counselling, support and assistance that they need for all aspects of their daily lives. Our staff in the external-care-based assisted living see their job in helping and guiding our clients through the tasks of daily living, which includes assistance with living in a community. The clients in our external-care-based assisted living facilities can, of course, also count on the assistance of our staff when it comes to leisure programmes. In addition to our own staff, a local nursing service is on call 24/7 to meet all the care needs our clients may have.
ASSISTED LIVING WITH EXTERNAL CARE
Your contact
Rebekka Kronenberg
Head of residential living with external care
Senior Home: The Young and the Old Under One Roof
The MFZ senior living facility in Freimann lovingly cares for seniors while maintaining the freedom that they desire. Our seniors live in an especially young and open house because the adjacent building houses a workshop, a support facility and a boarding house for young persons with physical disabilities. It allows the residents to benefit from the MFZ experiences as a large caring facility under the umbrella of the Stiftung ICP München. In addition to assistance and nursing care, our senior residents also receive competent medical care. The medical care is provided in close collaboration with their personal GPs. The comprehensive offerings from the therapy departments, such as physiotherapy, occupational, and speech therapy, are available in our in-house therapy practice with exercise pool. A wide range of cultural and creative options as well as individual occupational choices provided by our social assistants complement the care in our home.
Mutual respect and trusted relationships with and amongst all individuals form the foundation for our expert approach and actions, enabling us to create an atmosphere where everybody feels safe and secure.  
Structured living for seniors with disabilities
In advanced age it is also important to follow a structured day, to maintain social contacts and get support. This is why we established a residential area in the MFZ Freimann that is dedicated to seniors with disabilities, who have retired from working in a support facility or workshop. This residential model follows a daily structure and offers our seniors comprehensive care for the rest of their lives.
In the Stiftung ICP München, you will find the right home for all age groups and all living situations for yourself or your loved ones!