Instruction & Education
Day centres for children & inclusive primary school
INSTRUCTION & EDUCATION
IKF Integrative Kinderförderung GmbH
For our youngest, we offer a total of approximately 420 spaces in four day centres with infant care, nursery school and after-school care.
Three integrative and one regular facility complement each other and allow you as parents to select the setting that best matches the needs of your child.
Our day centres and our work focus on the following:
competent and caring assistance, development, and companionship for every child
children with different strengths and needs share experiences and learn together
fostering social communication and social interaction
experiencing diversity as a normal component of our daily interactions
plenty of available space to build and establish new skills, capabilities, and structures of social behaviour
interdisciplinary teams for intensive collaboration, interconnectedness, and professional exchange
collaborative partnership with the families
individual advice for parents regarding the appropriate care options for their child
interconnectedness with the special-needs school and the curative education day centre at the Stiftung ICP, to help offer every child with disabilities the appropriate developmental environment
Our inclusive Luise Kiesselbach Haus for Children on Garmischer Straße houses the children's house with nursery school and after-school care in addition to our inclusive primary school, which includes one class per grade where pupils with and without special education needs learn together. The close ties to the Children's House allow us to create an optimal place for your child to learn and to evolve.
Our cooperative all-day education in the inclusive Luise Kiesselbach Haus (nursery school – primary school – after-school care) features:
factual implementation of inclusion thanks to the conceptual and organisational ties among nursery school – primary school – after-school care
cross-functional instruction, education, and development
age-appropriate classes in a state-recognised primary school and assistance in age-appropriate development in the areas of social and cultural learning, motor skills, artistic and creative capabilities
classes of no more than 18 pupils allow for teaching towards different learning goals
close communication between teachers and after-school personnel ensures good care in every grade
speech, occupational, and physiotherapy are offered on site through the therapeutic special services of the Stiftung ICP München
We encourage you to research more detailed information about our day centres and our inclusive primary school on the IKF GmbH homepage at www.ikfmuenchen.de where you will be able to get to know each house individually. We also welcome visitors and offer personal conversations on site.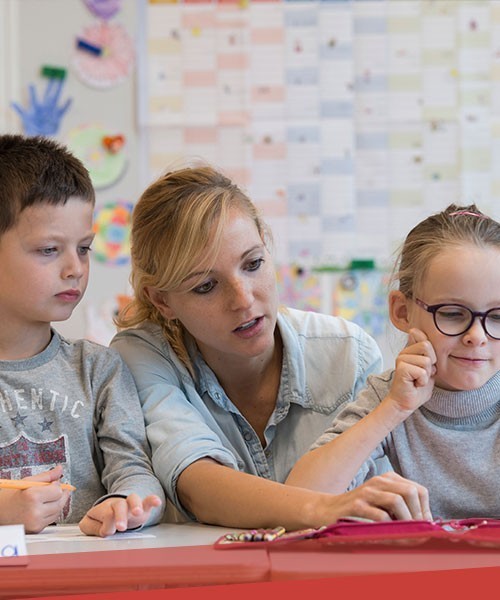 Information material for download
FOR QUESTIONS REGARDING IKF – INTEGRATIVE KINDERFÖRDERUNG GMBH
Your contact
"Our children are all little persons who learn from and with one another and experience social togetherness here. This is made possible by a competent team of specialists that constantly interact, and by close involvement of the parents."
Adrijana Badrov

Director, integrative Kinderhaus Kleeblatt 
"Our children are all little persons who learn from and with one another and experience social togetherness here. This is made possible by a competent team of specialists that constantly interact, and by close involvement of the parents."
Adrijana Badrov

Director, integrative children's group Kleeblatt Freimann