RESIDENTIAL LIVING, SUPPORT FACILITY, WORKSHOP FOR PERSONS WITH DISABILITIES
Residential Living & Working
RESIDENTIAL LIVING & WORKING
Workshop for persons with disabilities
Our workshop for persons with disabilities in the MFZ Freimann is a specialised workshop for persons with cerebral palsy or other neuro-orthopaedic diseases. Our introductory programme gives our clients the opportunity to assess whether our workshop is an appropriate facility for them. Together with our clients we prepare an integration plan that captures our clients' capabilities and objectives.
At first, our clients participate in basic and advanced vocational training to acquire the various skills needed in the workshop for persons with disabilities. In collaboration with our clients, our instructors assess their personal abilities and interests to ensure that they receive the correct assignment to the appropriate work zone in the workshop later on. In addition to work-related skills, the vocational training curriculum also includes the development of practical life skills, such as body and health care, road safety education, or money management.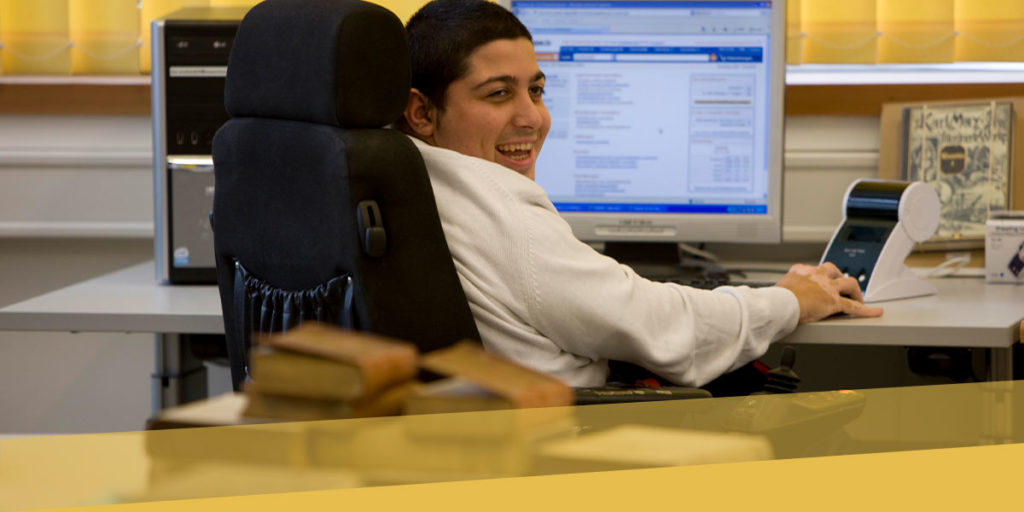 Our workshop offers the following areas for our clients to work in:
Office work and data processing, such as
mailing drives
advertising drives
letter design
postal shipment
sorting
data entry
internet research
internet book sale
shipping
administrative tasks
and many more
Assembly and Packaging, such as
partial and complete assembly
inspection and control tasks
packaging tasks
sorting and finishing tasks
We are convinced that our broad range of activities will allow every prospective client to find the task that is right for them. The workday alone, however, is not all that our workshop for persons with disabilities has to offer for our clients.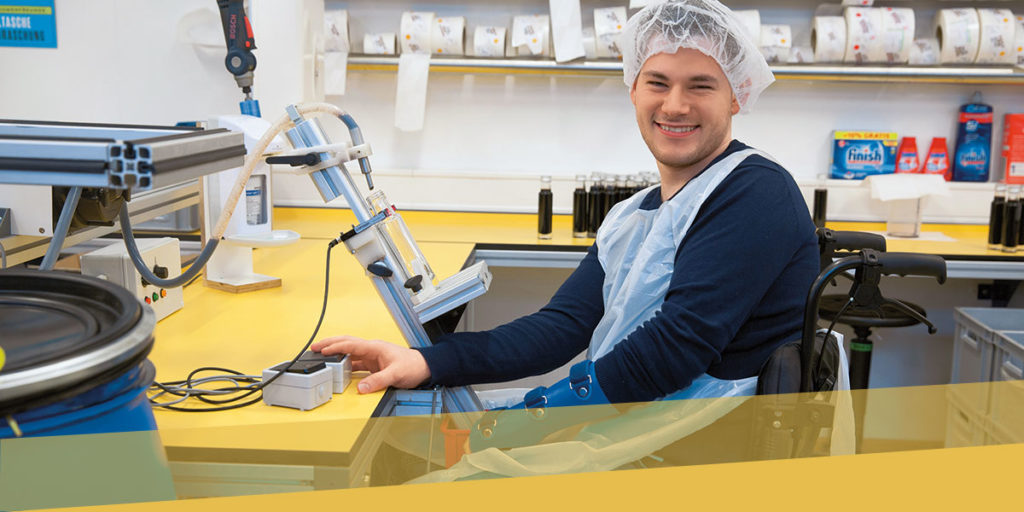 In addition to daily work, there are project groups for theatre, newspaper, politics, etc. and targeted individual assistance based on each client's personal development plan. Educational excursions, e.g., to the Federal Parliament, take place regularly. In our workshop for persons with disabilities we also provide the opportunity to use our in-house therapeutic practices (
physiotherapy
as well as
occupational
and
speech therapies
, exercise pool, to name a few) upon prescription from a medical professional.
Information material for download
Workshop for persons with disabilities—benefits for your company
Award your contracts to our recognised workshop for persons with disabilities, and you will realise many benefits. We deliver reliable, high-quality work on time. In addition, you may deduct up to 50% of the wage portion in the invoice amount off your countervailing charge.
Some 60 persons with physical disabilities work in our ICP workshop in the Münchner Förderzentrum Freimann, assembling, packaging, and shipping products to various clients. Our workshop is equipped with state-of-the-art machinery and assistive devices.
FOR QUESTIONS REGARDING THE WORKSHOP FOR PERSONS WITH DISABILITIES
Your contact